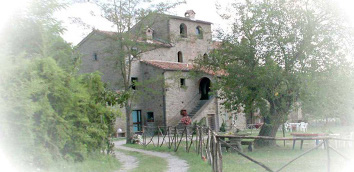 Unfortunately, it is very difficult to investigate because of the scarcity of documents, but from the fourteenth century we have archival sources that allow us to reconstruct the vicissitudes of this religious building.
At the Diocesan Historical Archive of Cortona are preserved the 'pastoral visits' (visits that the bishops had to do every year in all the churches of the territory, to do a doctrinal and material control) where, from the most ancient "Pastoral Visit" dated 1337, we find our Ecclesia Sancti Silvestri. In fact, Monastero San Silvestro had the good fortune not to be abandoned, but the Benedictine monastery became a parish church with an oratory, where every year on December the 31st, the feast of St. Sylvester, the parish feast was celebrated. In 1515, Cardinal Silvio Passerini (Cortona, 1469-1529), to increase the income of the Chapter who presided, made Ecclesia Sancti Silvestri annexed among the assets of the Chapter administration. So, for Monastero San Silvestro began the decadence: deprived of his parish (which was sold to the near church of S. Marco in Villa) and of its community, it was gradually neglected.
In 1983, the building has been ranked among the 50 Tuscan farmhouses worthy of mention for its particular architecture.
In 2002, Monastero San Silvestro has been completely restored and renovated, leaving intact the traces of its history.